Kailash Mansarovar Yatra is an epiphany journey helping you to overcome all your emotional upheaval while being challenged physically at every step. A journey which makes you touch the sky by being in an elevation of 21,788 feet.
The site is named after two holy spiritual and religious sites Mt. Kailash and Lake Mansarovar. Lake Mansarovar is the highest freshwater lake in the world located at the height of 4500m. Kailash Mansarovar is believed by Hindus to be an abode of Lord Shiva and his family, according to Buddhists home of Buddha Demchok, as per Bon followers it is a spiritual seat of power and also the place where the creator of Jain religion Rishabhadeva attained Nirvana.
Kailash Mansarovar is a spiritual destination with religious values and cultural significance. Pilgrims start their journey with a faith that this will bring good fortune in one's life. They also believe in drinking water from the lake or taking dip or bathing in the lake will wash away all their sins.
Eligibility
The Kailash Mansarovar Yatra is eligible to Indian citizens holding Indian Passports. Applicants may do some basic checks to see the state of health and fitness before registering a Yatri. Yatris need to spend three to four days in Delhi for preparation and medical test before starting the Yatra. Delhi government offers common boarding and lodging facilities for free of cost to Yatris only.
YATRA
Day 1 Arrival
A very warm welcome to all the yatris. Local representatives meet the yatris at Kathmandu airport and escort them to their hotel. After check-in the Hotel Shanker, you can rest in the room or explore the place.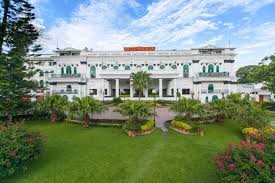 Day 2 Kathmandu-Nepalgunj
Yatris start their day with an early morning visit to the Pashupatinath Temple and Guheshwari Shaktipith, which symbolizes faith and belief in Hinduism culture. It also showcases the richness of Nepalese Architecture and culture. A huge gold statue of Nandi can also be spotted from the temple. After the excursion to temple yatris board the flight for Nepalgunj and spent an hour travelling. Spent night at Hotel Siddharta having double or triple sharing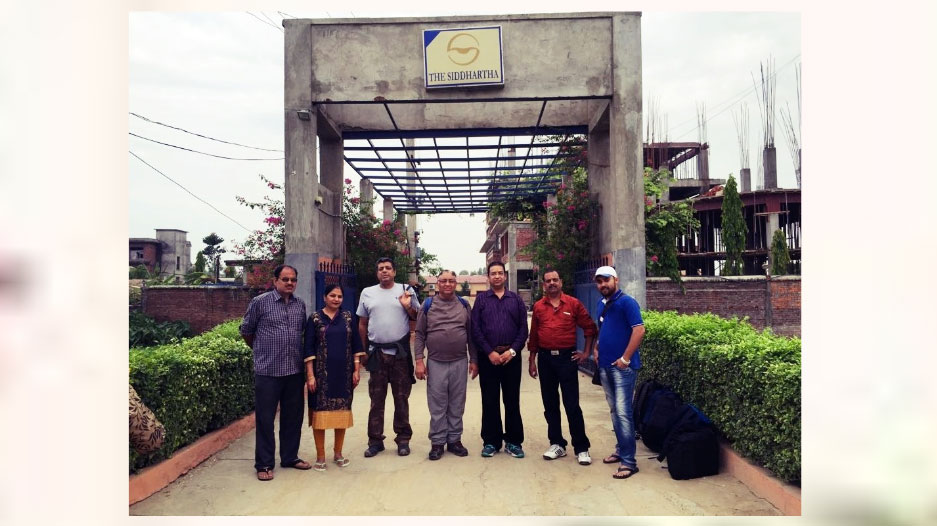 Day 3 Nepalgunj-Simikot
Yatris board the morning flights to Semikot which is elevated at the height of 2950 metres and takes around an hour to reach. It takes time to get accustomed to such an elevation. The night is spent at Sun Valley Resort after spending the day at leisure.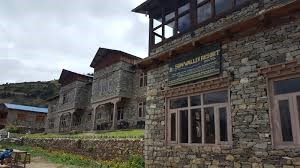 Day 4 Simikot-Hilsa-Purang Fly early in the morning to Hilsa which is located between China and Nepal and takes around an hour to reach. Walk for 5-10 minutes crossing borders to get an exit stamp on the passport from The Border Immigration Office to permit flying to Hilsa. Then drive for an hour to reach Purang which is an elevation of 3750 meters. Rest at the Hotel Purang for the night.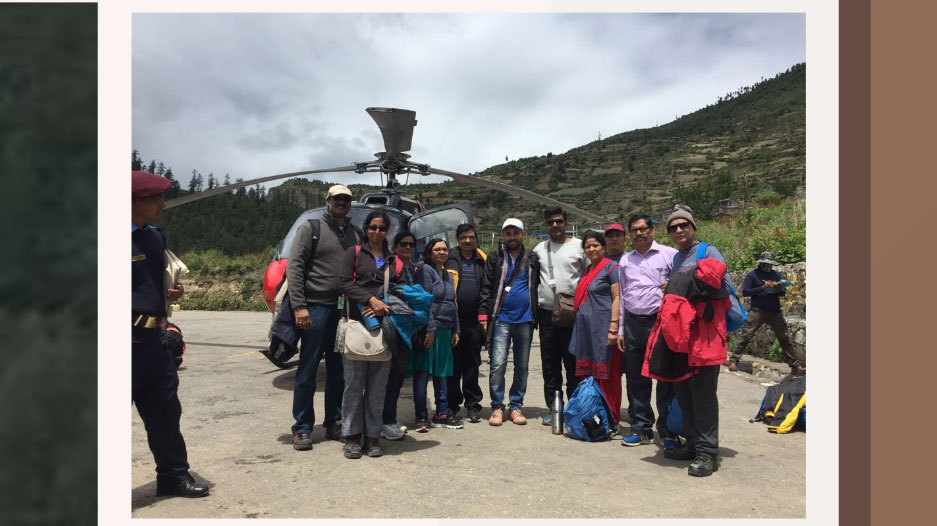 Day 5 Purang-Mansarovar
Yatris start with driving to Mansarovar which is about 3-4 hours drive. They do a Parikrama of Mansarovar which is a two and a half hours drive. After reaching the highest freshwater lake having a picturesque view, they take a holy bath and pray. Stay for the night at Mansarovar Guest House.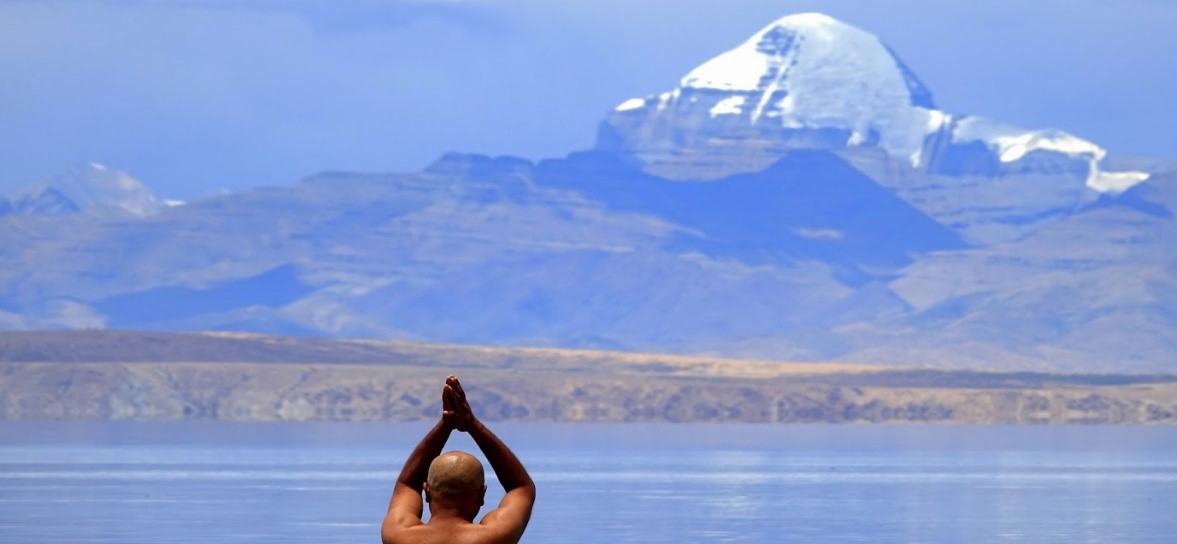 Day 6 Mansarovar-Darchen
Drive to Darchen, the Mount Kailash Base Camp, 4620m which is about two hours long and trek towards the Asthapad. Overnight stay at hotel in Darchen.
Day 7 Darchen-YamDwar-Diraphuk
Begin with the drive to Yam Dwar for 20 minutes and then trek to Kailash Parikrama, the starting point. The trek to Deraphuk is smooth but may seem harder due to the high altitude. It is a 7-8 hour long trek, Yatris stay overnight at the guest house in Deraphuk. Sherpa team serves them tea/ coffee soon after their arrival.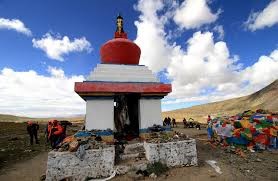 Day 8 Dheraphuk-Zuthulphuk
Yatris trek to Dolma Pass which is 5636m above sea level and is the highest altitude of the parikrama. Glacial lake Gauri Kunda is positioned just below the Dolma Pass. Yatris rejuvenate here by offering prayers for some time. Then trek onward for 8 to 10 hours to Zuthulphuk, 4760m to reach the valley. Overnight stay at guest house in Zuthulphuk.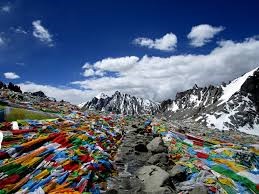 Day 9 Zuthulphuk-Hilsa
After trekking for two hours to Purang, 3750m and driving for about three hours to the Hilsa, Yatris finally reach to their hotel. Depending on the weather conditions they decide whether to stay at Hilsa or Purang. Sherpas provides Yatris with hot water to rest their feet after such an exhausting trek.
Day 10 Hilsa-Semikot-Nepalgunj-Kathmandu
Yatris get an early morning flight to Semikot 2950m above sea level. As soon as after arriving in Semikot they board their next flight to Nepalgunj. And then take their third flight to Kathmandu. Stay overnight at the hotel in Kathmandu and take the long-awaited showers to freshen up. Get some souvenir shopping done on the last day from the local market of Nepal.
Day 11 Departure
Yatris bid farewell with the feeling of triumphant of completing the yatra successfully and with the hope of returning back to the enchanted place the Kailash Mansarovar. Yatris take the flight back to home and depart.
Facilities
Tour managers do their best to make you feel like home and have a hassle-free trip. They provide you with a team of well-trained professionals and command guides having all the knowledge of history, geography, culture and languages.
The Sherpa staff who are always eager to help with daily monitoring of oxygen level, Pulse rate and Blood Pressure having all high-altitude equipment.
Everything is taken care of from the beginning like the arrival in Kathmandu till your departure. They ensure you get excellent services and great comfort, they look after your food, stay, sightseeing and medical support throughout the Yatra. Chefs are trained in different cuisines like Gujarati, Punjabi and Indian offering you purely vegetarian food at every point. A Fixed Kitchen makes it sure that Yatris don't need to wait for their meals.
Yatris should carry heavy woollen and rainy clothing which are meant for mountaineering due to unpredictable climate which can vary between maximum 16 to -10. The base camp Darchen is 4560m above sea level. The best time for yatra is late April to mid-October. The standard time is 2 hours ahead of Nepal's time. The currency used is Renimbi or Yuan which value is one Dollar is equal to 6.50 Yuan approx.
All you need is little courage and good fitness to go ahead with Yatra. You will come back home with the great sense of achievement after such a spiritual and triumphant trekking.